Call it the Great Butterbeer Debate. In all the hoopla surrounding the grand opening of The Wizarding World of Harry Potter at Universal Orlando, one question has yet to be settled: Frozen butterbeer or regular?
"My preference is the frozen – it's slightly nicer, especially in this unbelievable heat," says Daniel Radcliffe, who plays Harry in the wildly popular film series. "It's very refreshing."
But the nonalcoholic butterbeer – which tastes like one part cream soda, one part butterscotch syrup and one part Nilla wafer – is just a drop of the detail-packed new park, which has its grand opening to the public today. We asked the stars of the
Harry Potter
films to share their own personal highlights:
•
DANIEL RADCLIFFE (Harry)
: "The fact that [Hogwarts] castle looks like it's 700 ft., you can hardly fail to be awed by that." Second place: "When the dementors take your soul" on Harry Potter and the Forbidden Journey, the park's centerpiece attraction. Inside the vast castle interiors, keep an eye out for student notices in the Gryffindor common room ("Get Your Freshly Baked Cauldron Cakes") and everything from the Pensieve to the Mirror of Erised to a magically moving book in Dumbledore's office. Plus, the moving portraits feature the first time Potterphiles can see all four Hogwarts founders: Godric Gryffindor, Helga Hufflepuff, Salazar Slytherin and Rowena Ravenclaw. Listen carefully and you'll hear Slytherin gripe about allowing Muggles inside the hallowed Hogwarts walls.
•
RUPERT GRINT (Ron Weasley)
: "I really like the Hog's Head Pub – great drinks. I really enjoyed that." If you're looking for something stiffer (and less sweet!) than butterbeer, try the specially brewed Hog's Head Brew. But probably best to pass on the bottles of White Rat Whiskey lining the bar shelves.
•
JAMES PHELPS (Fred Weasley)
: "Something that really blew me away is that everything is exactly like the [film] sets. Zonko's [joke shop], for example, is pretty much identical." Make sure to look up to see the Extendable Ears – an eavesdropping device invented by the mischief-making Weasley twins – hanging from the ceiling in Zonko's. Even storefronts that aren't open for business, like Dogweed and Deathcap Exotic Plants and Flowers, make for great window shopping: Don't miss the squealing mandrakes amid the magical greenery. And visitors can mail letters by owl post – they'll arrive at their Muggle destination with Hogsmeade postmarks.
•
WARWICK DAVIS (Professor Flitwick, Griphook)
: "It's an immaculate reality. To see my kids in Ollivander's [wand shop] getting their wands was just tremendous. My children have got an unhealthy amount of wands. It looks like Ollivander's in our hotel room. They're loving it."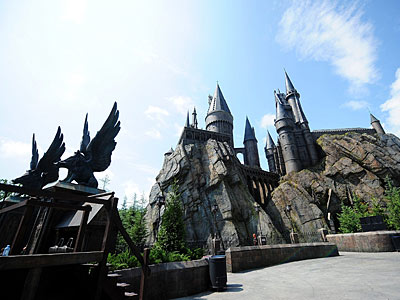 Gustavo Caballero / Getty