Actress Shannen Doherty and Cobra Starship singer Gabe Saporta had 26 drinks each Sunday night – and, no, this isn't a preface to an episode of
Celebrity Rehab
.
Doherty and Saporta weren't exactly enjoying a night on the town. They were judging a regional competition as part of
GQ
magazine and Bombay Sapphire's search for the nation's "most inspired" bartender.
Hosted at the
Trump Soho Hotel's rooftop bar
in New York, the bartenders showed off their mixologist moves with out-of-the-bottle ingredients – like fennel and egg whites. Doherty and Saporta weren't sipping on any plain, old gin and tonics – the winning entry was the Sapphire Emerald Fizz (recipe below), crafted by Andrew Mirabito of the
Cooper Square Hotel
, who will compete at the general competition in Las Vegas.
"It was unique," Doherty tells PEOPLE. "The fact that he used the fennel and everything that he put into it – the egg whites – it was a unique drink that some people might have been scared to try."
Also in attendance: Kathy Griffin, who ironically doesn't drink alcoholic beverages. Opting to sniff and snack on garnishes, although she didn't try any of the creations, she had an idea of what the winning mix should contain: lots of booze.
"Well, I'm looking to get my mom drunk," she says. "But she would probably come to this party in a muumuu, stolen hotel slippers, knee-highs and probably say something more shocking than I ever could."
Want to make the winning drink yourself? Try it at home: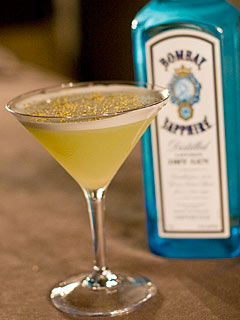 Ian Wilson / East View Photography
Sapphire Emerald Fizz by Andrew Mirabito from the Cooper Square Hotel
• .5 oz Bombay Sapphire Gin
• .75 oz Blue Agave Nectar
• .5 oz lime juice
• .5 oz lemon juice
• 3 slices cucumber
• .5 oz Pernod Fennel Pollen
Reporting by ISLEY KASICA