By modern standards, Brooklyn Decker was on the young side when she
walked down the aisle
with Andy Roddick last year at age 22. But for both the bride and groom's families, there was nothing unusual about it.
"It wasn't weird for me," Decker tells the latest issue of
Page Six Magazine
. "My mom got married when she was 19, and my husband's parents got married young – in their 20s. And both sets of parents are still together. We're so lucky. We had that influence around us, and basically, it came down to the fact that neither of us had to get married."
With Roddick – now 28 – a world-class tennis player and Decker thriving as a swimsuit model, the couple couldn't see a reason to wait.
"We both were successful on our own, we both had our own income, we both had our friends, but it's just what we wanted," Decker says. "It was never part of my plan to get married young, but we did it because we really wanted to."
One challenge of the fledgling marriage so far? Putting up with Roddick's celebrity infatuations.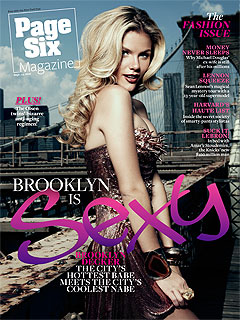 Courtesy Page Six Magazine
"Andy definitely has crushes," Decker says. "He loves women in their 40s and 50s. He loves Christie Brinkley and Diane Lane. A woman who's graceful and has it all together. So not me."
There is one actress Decker doesn't worry about:
Jennifer Aniston
. Despite rumors to the contrary, she says the two got along famously on the set of their upcoming film
Just Go With It
.
"I don't know where that stuff comes from," wonders Decker. "Two people fighting is much more interesting than two people getting along. But I find it disappointing that people's first instinct is to pit two women against each other. You get a few bad apples in there, but overall women do root for each other and want to help each other. Jen is such a doll – she is such a girl's girl."