Man Tears of Joy: After Gilles Marini received his first perfect score of the night for his waltz, he shed a few tears on his way backstage, causing
Dancing
co-host Samantha Harris to pause and take note. "As a man in Europe, it's never about you, it's always about the woman," Marini told PEOPLE. "You please your woman. Cheryl Burke becomes a bit of my woman. That's the way it is. That's the way I feel." As for earning two perfect scores on semi-finals night, the Frenchman said, "For me, it's exhilarating. I'm on a different planet."
A Family Affair: For 10 grueling weeks, the semi-finalists have been sweating, eating and sleeping
Dancing
. That's why they're all grateful that they've got their support system come showtime. Shawn Johnson's said, "My parents haven't missed one competition my whole life. They're my feel of home and comfort." Also a fixture in the ballroom is Gilles Marini's wife, Carole, who is often the first to stand up for an ovation. "I love my wife here," said the Frenchman. And I love Cheryl Burke's boyfriend Maxwell Zagorski) there. Without them, it would not be the same, that's for sure."
Melissa Rycroft's parents and boyfriend Tye Strickland go so far as to fly from Dallas to Los Angeles each week to show their support. "They're working back home, but they have been here religiously," said Rycroft. "They're here Monday nights, Tuesday nights, and we always go out for dinner after the show." And Ty Murray's wife, singer Jewel, has become his biggest supporter in and out of the ballroom. "It's more than looks or thinking somebody's sexy," Murray told PEOPLE of his marriage. "Me and Jewel are really partners."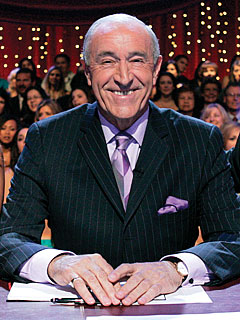 Bionic Booty II: On performance nights, the judges are ready to have a good time, but it seemed they had semi-final fever Monday night. The crowd cheered on Carrie Ann Inaba when she jumped out of her seat and start dancing after Gilles Marini perfect performance of the salsa. Earlier in the evening, following a commercial break, Len Goodman shook his derriere before sitting down--to the roar of approval from the fans seated behind him.
Missing Jewel: For the first time since Ty Murray has been performing on
Dancing with the Stars
, wife Jewel will not be seated in her usual spot for elimination night. Jewel, who just released her CD
Lullaby
last week, will be en route to New York, where she will perform Wednesday on
Live! With Regis and Kelly
. "The show will be Twittering, or texting, me tomorrow with the results," she said. But without Murray's lucky charm, will he survive the cut?
--Elaine Aradillas
MORE: •
Dancing POLL: Who Was Robbed -- Melissa or Shawn?
•
Dancing Recap: Gilles Brings His A-Game
Kelsey McNeal/ABC