A brain, a princess, a basket case and a criminal – all back together again.
Anthony Michael Hall, Molly Ringwald, Ally Sheedy and Judd Nelson – four of the five Brat Pack stars who rocketed to fame in John Hughes's seminal high-school drama
The Breakfast Club
– reunited in New York City Monday night for a Film Society of Lincoln Center and New Wave hosted screening of the film to celebrate its 25th anniversary.
The only missing face: the athlete (Emilio Estevez).
Hughes
died last year
at 59 and was honored at the Academy Awards last spring, where a number of his favored actors told anecdotes about working with him.
"[John] put different parts of himself into all the different characters," Sheedy told reporters of the late director. "He was just like that. He was brutally honest and open, so I think all those things are in the movie ... Teenagers were treated with such respect in this movie. I think that's why people remember it so well."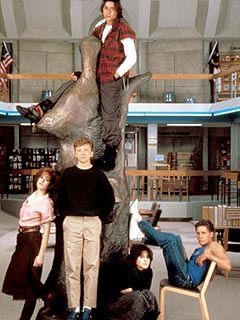 Though she said she hadn't seen the 1985 film in "many years," Sheedy was excited to share the experience with a new generation on Monday. "Now I'm seeing it with my daughter, who's here," she said. "She's 16, and I'm going to watch it with her. It's very cool."
• Reporting by ASHER FOGLE