It's not a case of art imitating life for
Glee
star Naya Rivera, who plays devilish Cheerios cheerleader Santana on Fox's hit show.
"In high school, I was most like Artie and Rachel. I knew what I wanted, like Rachel, although I wasn't as obnoxious," Rivera – who made her onscreen debut at age 4 –
tells Fitness
magazine. "But like Artie, I was a nerd, always trying to fit in and get my hair to lie flat."
Before finding her footing as an actress, Rivera, 23, tried her hand at athletics.
"My dad always wanted me to be sporty, so I tried softball," Rivera said. "I was 12 and tiny, and all the other girls were huge and looked 25. I was too afraid of the ball to bat."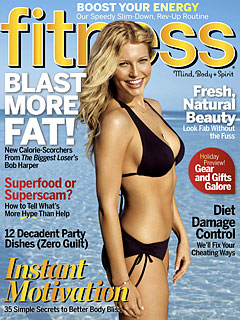 But now that she's performing on TV in a cheerleading uniform, she's found her own way of staying in shape. "Legs and butt get the most attention in the Cheerios uniform," she says, "so those are my target areas. Lots of squats!"