Six-pack abs and a
George Clooney
smile are fine, but Olivia Munn is looking for something a bit different in a man.
"Look, it'll always be unbelievably sexy to watch a guy drive a golf ball straight down the fairway 300 yards and hit the green," the actress and
The Daily Show
correspondent says in the December issue of
Men's Health
. "That will never change, in my opinion."
For men who can't golf, never fear – she's also got a soft spot for guys who can work a joystick.
"It's also sexy to watch a guy take down Call of Duty 4 without breaking a sweat," she adds. "Having mastery over anything is hot."
Munn, 30, who
broke up with Chris Pine
earlier this year, reveals her current sleeping partners: her gadgets.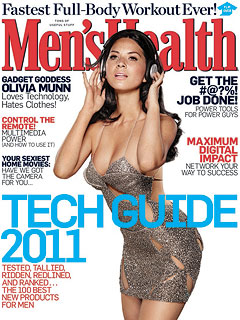 "I sleep with my BlackBerry and MyTouch plugged in on my nightstand, my laptop in my bed next to me (now that I'm single, I have plenty of room to let my electronics sleep next to me), and my Universal remote that controls my Blu-Ray, DirecTV, TV, and Xbox," she says.
"I don't think there's a problem with gadgets in the bedroom," she adds. "I have a lot going on and I work hard. And my work fulfills me and makes me happy. And listen, when someone really grabs my attention, I don't even think about my phone."