There's nothing like a
Maxim
photo shoot to convince a guy he's
found the right girl.
"I loved it! I imagined I was the sexy wife left alone, posing around the house in lingerie," actress Eva Amurri tells
Maxim
of her photo spread in the April issue, on newsstands Tuesday.
Amurri's boyfriend, Fox
soccer analyst Kyle Martino
, apparently liked it, too. "[He] visited the set, and we got engaged the next day," Amurri says. "Everybody's been teasing him, 'The
Maxim
shoot sold you, huh?' "
Amurri, 25, is used to sexing it up for the cameras, having played a stripper recently on Showtime's
Californication
– a role she also enjoyed immensely.
"I've wanted to play that part my entire life," she says. "You can tell from the way girls dress on Halloween, we just want to wear cute outfits that let us show off. We're always told, 'You can't look like a slut,' so to be able to prance around like we do in our bedrooms, it was a dream come true."
Will her exotic dancing lead to something more family friendly – like a turn on
Dancing with the Stars
?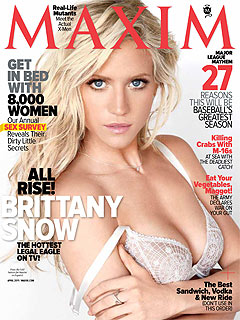 "No chance!" Amurri says. "But we do
Dancing with the Stars
in our living room sometimes. Kyle can do a mean
Thriller
dance, so we try to top each other with Michael Jackson moves."