Jesse James has been called a lot of things – chopper king, TV star, (very) bad boy – but nobody expected his latest title: author. With his memoir,
American Outlaw
, hitting stores May 3, James promises readers a raw and wild ride.
"I've lived a pretty crazy life," James, 41, tells PEOPLE of his hardscrabble journey that spans a
volatile upbringing
, addiction struggles, failed marriages, artistic success and fame and the salvation of fatherhood.
"My life has been defined by many things and not just the events of the last year," says James, whose marriage to
Sandra Bullock
ended in
divorce last spring
. "I just wanted [the memoir] to be a good story, a page-turner and hopefully people will see it as that."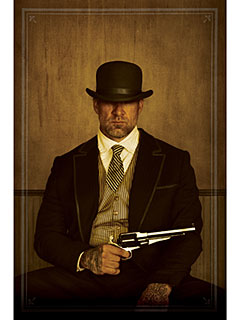 For the jacket of the memoir, published by Gallery Books, James steered clear of "some variation of a bad prom photo, serious Thinker pose like most book jackets show," he says, and instead went for an old Western gunslinger look (holding his own .44 Magnum revolver no less). "I just wanted something different. I wasn't going to mail it in."
Something else he wanted? To get his
real
story out there. "People claim to know everything about me, when they actually know nothing," he says. "But once you read this, you will know everything – the whole story, right here."