Watching
the finale
of season 11 of
The Biggest Loser
made trainer Jillian Michaels smile and feel content.
"To see the show wrap up with three female finalists and a female winner with a group of contestants whom Bob and I adored," Michaels tells PEOPLE, "it was the perfect ending."
The veteran trainer, known as much for her emotional chats with contestants as her barking command of their training sessions,
announced in December
her plans to leave the series.
"I am grateful for what the show has given me, but it's no secret that I've been wanting to be in daytime for years now," Michaels says. "To join Dr. Phil on his show and have him as a mentor – I couldn't ask for a better situation than
The Doctors
and
Dr. Phil
. So I'm just hoping to earn my keep over there and do a good job."
Also ahead for Michaels, 37, is the prospect of
adopting a child
. "It's a waiting game," she laments. "There is nothing I can do, which is not a familiar space for me. I'm so used to being able to affect change and be proactive and right now, it's like, the paperwork is in and you wait."
For the remaining trainer,
Loser
mainstay Bob Harper, Michaels "has been my confidant, friend and foe, my wife at times," he says. "We have gone through so much together since season one and she's moving on, which is great for her."
Coming in to take over for Michaels is tennis pro
Anna Kournikova
, 29.
"She's a world-class athlete who is going to walk into the house and I think it's going to be great," says Harper, 45. "It's going to be an adjustment for all of us but I am really excited."
On the finale Tuesday, Kournikova said in a clip introducing herself to the audience: "I know all about discipline, strength and conditioning, commitment. This is my chance to give back, the opportunity of a lifetime and a way to teach the contestants everything I know."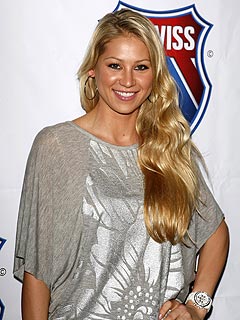 Jean Baptiste Lacroix / WireImage
Kournikova is not unfamiliar with
The Biggest Loser
. Host
Alison Sweeney
tells PEOPLE, "We got to work with her on a challenge in season 8 and she is a fantastic lady. She is a total sweetheart and I think she has a lot to offer, not just the physicality but also in the mental game."
But Sweeney, 34, takes a moment to say farewell to Michaels, too. "I was in charge of saying goodbye to her on behalf of the fans and the cast and crew of the
Biggest Loser
," says Sweeney, "and I knew it was a big important responsibility and when I was there and the moment was upon me I was so overcome by it because she is so magical. You feel it everywhere you go with her. She touches people's hearts. She touches mine."