They come from all walks of life. There's a nurse, a salesman and a teacher. Six of them have children. They range in age from 32 to 65.
And they have a difficult job – to determine
whether Casey Anthony
is guilty of murder and, if so, to decide whether she should be
sentenced to death
.
Here's a closer look at the jurors:
Juror 1: THE NURSE
The married white woman, 65, has two grown children. A retired nurse and volunteer counselor, she pays close attention to the proceedings. She also supports the death penalty. "I value life," she said during jury selection, "but I also value the criminal justice system."
Juror 2: THE FAMILY MAN
During jury selection, this thirtysomething, married African-American man told attorneys that his mom was a single mother "like Casey." An IT worker, he has a 9-year-old daughter and a 4-year-old son. Although he opposes the death penalty, he says he had some doubts of Anthony's innocence. "My impression was that, yes, I thought she did it," he said last month. "But if I had to return a verdict right now, I would say not guilty."
Juror 3: THE STUDENT
A 32-year-old single white woman, she is working on her nursing degree. She often sits motionlessly and watches the trial with wide eyes. Soft-spoken and demure, she admits she knew little about the case before being selected for the jury. "I could be fair," she told attorneys. "I can't think of any reason why I wouldn't be."
Juror 4: THE CHURCH LADY
The never-married African-American woman is in her late 40s and lives alone. Deeply religious, she did not want to be selected, saying, "I don't like to judge people." Anthony's defense fought to keep her on the jury, where she shook her head as she heard about Anthony's repeated lies.
Juror 5: THE MOTHER
With long gray hair and glasses, the retired nurse's aide, 57, often has a frown on her face as she watches the trial. A mother of three children, she has an 11th-grade education and is the only juror with a criminal record: a DUI arrest from 1998. When asked whether she could vote for the death penalty, she was ambivalent. "I guess I believe in the death penalty," she said. "I'd have to know a lot of facts before I really considered it."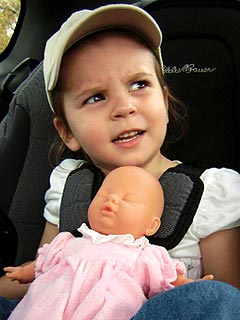 MCT / Orlando Sentinel / Landov
Juror 6: THE SALESMAN
The 33-year-old married white man has two children, ages 6 and 22 months. He has a business degree and sells restaurant equipment. Throughout the proceedings, he has had trouble staying awake during the dry scientific testimony.
Juror 7: THE SECRETARY
The 41-year-old divorced secretary has always been around the law. Her father was an attorney, and she now works in juvenile justice welfare. During jury selection, she explained that she could give the death penalty if necessary. "It would be, gosh, a solemn decision," she said nervously, "but it is an option under the law."
Juror 8: THE POLICEMAN'S DAUGHTER
The defense was worried about this married customer service rep, 55, who has two sons approximately Casey Anthony's age. Her father was a police officer, and she has no problem with the death penalty. "If I know all the facts," she said, "I have no problem voting for the death penalty."
Juror 9: THE HANDYMAN
At 53, this single former logger sits close to the witnesses; he never takes his eyes off the courtroom proceedings. A native of Indiana, the thin, balding man does odd jobs to supplement his income as a caregiver for a stroke patient. "I don't think we've heard the whole story," he told the court. "I hold no bias."
Juror 10: THE BACHELOR
Tall and broad-shouldered, the 57-year-old has never been married and has no children. He works for a mobile phone company and spends a lot of time reading. When asked about the case, he admitted, "I don't know any details, but I believe everyone is innocent until proven guilty."
Juror 11: THE GYM TEACHER
The 33-year-old single white man works as a high school gym teacher. Tall and handsome, he has gotten the nickname of "Johnny Depp" from some of the courthouse staff. He often leans forward during the shocking testimony. "Everyone I work with think she's guilty," he said in jury selection," but I can keep my mind open."
Juror 12: THE COOK
The sixty-ish white woman has two children and one young grandchild. Working part time as a cook at a Publix supermarket, she often looks to the female prosecutor for reaction from the testimony. A fan of legal dramas, she says, "I have no problem deciding on the death penalty."