Austin Hatch was a standout high school
basketball player
in Indiana – on his way to college on a full scholarship – when the unthinkable happened.
Hatch, 16, was critically injured in a plane crash on Friday that killed his father, Dr. Stephen Hatch, and his stepmother, Kim. Even more unfathomable?
It's happened to him before.
In 2003, Hatch and his father survived a plane crash that took the lives of his mother and two siblings. He is now the sole survivor of his immediate family.
"They're all gone," Dan Kline, Hatch's basketball coach at Canterbury High School told the
Associated Press
. "He's the only one left. What's the chance of that happening? A million to one, if that. It's just unbelievable."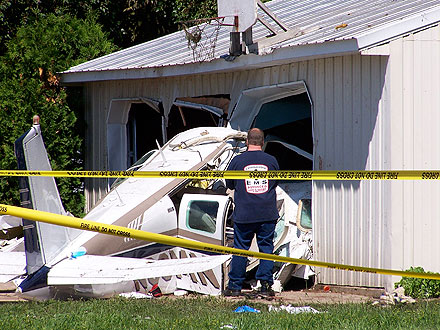 Heather Lockwood / Petoskev News-Review / AP
Dr. David Bojrab, Stephen Hatch's medical partner, told the
Associated Press
that Austin, who remains in critical condition at a northern Michigan hospital, is in a medically induced coma, suffering bruising on his brain among other injuries. Close friends of the teen have been keeping a vigil at the hospital.
"He never talked about [the previous crash]," Kline said. "I'm sure he carried it inside."
Anticipating his life as a collegiate athlete at the University of Michigan (where his mother and father went to school), Hatch recently told the
Journal Gazette
of Fort Wayne, Ind., that accepting his scholarship, "was a very special moment for me. There was no reason to wait. … I couldn't turn it down."