While handbag designer Vanessa Trump and her husband,
Celebrity Apprentice
advisor Donald Trump Jr., await the arrival of
their new son
in eight weeks, their two children are already getting to know their cousin –
Ivanka Trump's baby
with husband Jared Kushner,
Arabella Rose
, who was
born July 17
.
"My daughter and son have both seen her. I'm very happy about that, because it's good practice, to see how they'll be when I have the baby in two months." Vanessa told PEOPLE this weekend at East Hampton's Blue & Cream store during a trunk show for La Poshett, a python-patterned handbag line that she designs with her mother and sister.
Vanessa and Donald Jr.'s children are
daughter, Kai Madison
, 4, and a
son, Donny, 2
.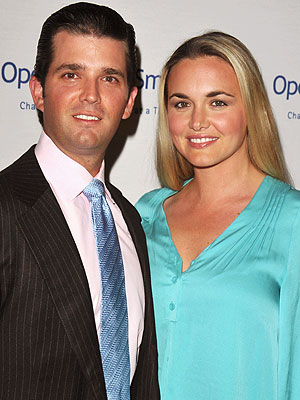 Sounding like a proud aunt, Vanessa adds, "Ivanka's baby is beautiful. I call her a little doll. She looks a lot like Ivanka. Perfect little lips and nose. The baby has been smiling since such a young age. She's got great coloring, a perfect complexion
. . . an angel."
And speaking of family members, Vanessa also says, "Donald Trump is a great grandfather. Our daughter plays a lot of golf and tennis. He always watches our daughter play golf, and our son. Our kids are actually good at it."