Two and a half men? You could fit a dozen times that many people into
Ashton Kutcher
's enormous, luxurious trailer that he'll reportedly use while filming CBS's
Two and a Half Men
this season.
More than 1,000 square feet? Check. Seven 60-inch, 3-D plasma TVs? Check. Two bathrooms, a kitchen with granite counter tops, a conference area? Check, check, check.
And the network will be writing some serious checks, too – $8,750 a week – to rent the palace-on-wheels for its new star, 33, who replaces
Charlie Sheen
on the top-rated sitcom, reports London's
Daily Mail
.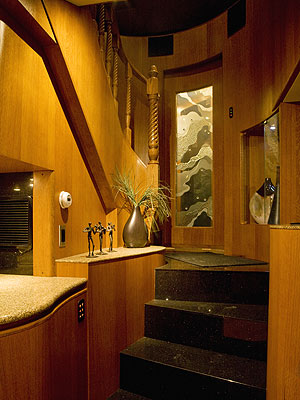 Courtesy Anderson Mobile Estates.com
The trailer, which recalls the
double-decker monstrosity
that
Will Smith
parked in New York while filming
Men in Black III
, has side sections and a second floor that hydraulically emerge from vehicle's main body, as well as a wireless touch screen that controls heat, air conditioning, brightness and the blinds.
If the rent seems exorbitant, check out the purchase price for one of these babies – upwards of $2 million.
Of course, if Kutcher grows fond of his new digs, he may be well positioned to spring for one. His salary for
Two and a Half Men
will reportedly approach $1 million per episode for 26 episodes.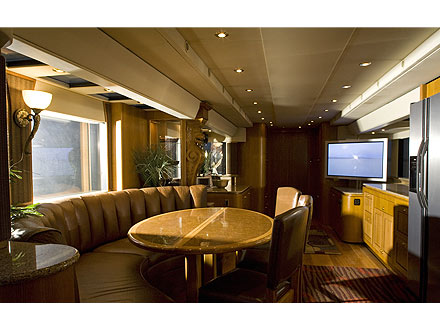 Courtesy Anderson Mobile Estates.com