While her husband,
accomplished pilot
John Travolta, may
fly through the air
with the greatest of ease, Kelly Preston apparently has found a formula for staying grounded.
Asked how she coped with the
death of 16-year-old son Jett
from a fatal seizure in 2009, Preston, 48, tells
Health magazine
for its September issue: "To be honest, [it was] the Scientology Center. I don't know if I would have made it through without it."
She adds about life's lessons she's learned, "Don't sweat the small things. Love your kids like it could be the last moment."
Mother to daughter Ella Bleu, 11, and
son Benjamin
,
born last November
, Preston says: "I've always wanted to be a mother, ever since I was 11."
As an actress starting out, she recalls, "I was doing commercials for thousands of dollars, but I'd still babysit for $3 an hour just because I loved it."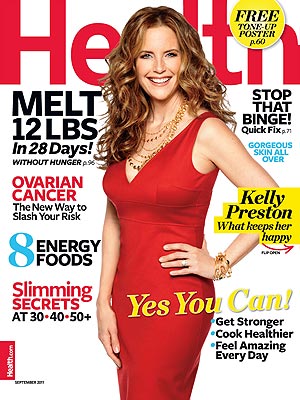 Speaking of her past, Preston discusses her liberal upbringing, and says, "There was this fallacy in Hawaii, where I grew up, that pot's not addictive, and that it's natural, and all this other B.S."
But today, she says, "I don't drink, I don't smoke, I don't do drugs. I've done all of that. And now, I live a really clean life."


As for
life with John
, Preston tells
Health
, "I'll be sitting there [in our Florida home] doing something really normal with the kids and then all of a sudden I hear, 'Whoosh!' and see the lights of the airplane and he's like, 'Honey, I'm home!' "