Martha Stewart certainly is not offended by the fact her daughter, Alexis Stewart, is
unleashing a tell-all
about growing up under the heavy thumb of her mother.
Not only is Stewart's Blackberry buzzing about the book – "I get a little 'ping ping' like every five minutes," says the domestic diva, 70 – but, she says, "I got an advanced copy and I actually read the book … oh, maybe about a month or a month and a half ago. I didn't know that it was even coming."
Whateverland: Learning to Live Here
, which Alexis, 46, co-wrote with her
Whatever
Sirius Satellite Radio-show partner Jennifer Koppelman Hutt, is to be published Oct. 18 and contains "fabulous pictures," says Martha. "And it is hilarious and it is enlightening and it's full of funny stories."
While "it's not an autobiography," says Martha on Tuesday's edition of
The Martha Stewart Show
, "[it] touches on everything: food, fashion, cleaning, organizing and me. It's irreverent and it's lots of fun."
To the charge in the book that there was never anything to eat in the Stewart home, Martha says: "Yes, if you wanted to eat when she was growing up, you had to cook something. That was the whole idea. [And today Alexis] is a superb cook."
Halloween Not Grim, After All
Martha goes on to dispute Alexis's quote about growing up "with a glue gun pointed at my head" by reading from the book: "Alexis' answer: Obviously what I say in this book is an exaggeration of the truth. I'm not sure if there were glue guns when I was a kid."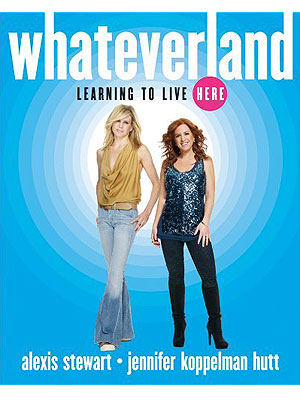 Adding her own P.S., Martha says: "And she's right, there were not any glue guns. She was 20-something when I first started working with glue guns."
And as for Alexis's memories of Halloween as "a grim affair" with "no costumes" when the Stewarts "turned off all the lights and pretended we weren't home," Martha counters by quoting her daughter: "Oh, okay. I left out the years when my mother made me costumes on the sewing machine. Or let me wear all of my grandmother's fabulous costume jewelry when I was very young and was a gypsy for Halloween. It was kind of fun pretending no one was home. No one else did that or would admit that they did it. And I still do it till this day."
Martha's final word on the matter? "I must have instilled in her some good habits. She's tall, beautiful, gorgeous and
mother of baby Jude
, and that's all that counts. The book is out late October wherever books are sold. I encourage you to buy it, read and make it a bestseller."