Last month, Paul McCartney and Nancy Shevell posted an
official notice
that they intend to get married at London's Old Marylebone Town Hall, and now there are signs that a celebration may be imminent.
A local company has been erecting a marquee tent at the singer's home, where a van from a party and decoration company has also been spotted. The wedding is widely believed to be this coming Sunday.
McCartney, 69, and Shevell, 51 – who were
engaged
in May – returned to London earlier this week after attending his daughter Stella's fashion show in Paris on Monday.
The pair sat close together in the front row where "they looked like two lovebirds," according to an observer.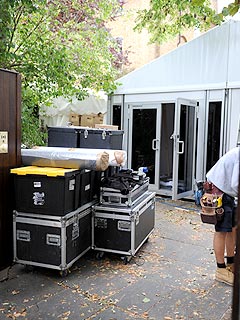 There seem to be no pre-wedding jitters for the groom-to-be. A beaming McCartney told PEOPLE on Monday, "It's a good time for me. I'm happy."
Reporting by SIMON PERRY and MONIQUE JESSEN