When you star in a political drama on television, it can be challenging keeping things light behind the scenes. But
Homeland
stars Claire Danes and Morena Baccarin have found something adorable they can chitchat about on the set of their intense thriller: dogs.
"She has a dog that's kind of similar in scale to mine," Danes tells PEOPLE. "And so we kind of have a little dog commune and that's fun."
When Danes decided to take the role as a CIA analyst, she and her husband, Hugh Dancy, agreed that it would be best if she took their schnoodle, Weegee, down south to Charlotte, N.C., for the long shoot. "He does miss him," she says of Dancy – and Weegee seems to miss the idyllic life at their country home in upstate New York.
"He gets really freaked out whenever there are rainstorms, which there have been many in Charlotte," she says. "It's not been the best location."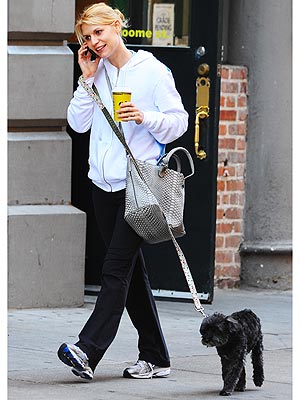 Doug Meszler / Splash News Online
Come mid-November, Danes and Weegee will head back up north to Dad, who's starring in the Broadway play
Venus in Fur
, and she'll have plenty of downtime until filming starts up again in January.
"I love all the fresh produce and the simple sort of lifestyle it affords," she says of the country. "It's kind of great because it's the best pressure valve. It's so nice to go to a place where I can be and look however I want with a cow as my witness."