The holidays for reality star Bethenny Frankel is all about giving
daughter Bryn
, 18 months, the most special of memories: seeing Rockefeller Center's Christmas tree; starting a collection of special ornaments; and basking in New York's winter wonderland.
"I want Bryn to have her own traditions that we create together," says Frankel, 40, who will share the holiday glow with hubby Jason Hoppy, 40, and of course,
prized pooch Cookie
.
"We also want to make gingerbread cookies together," the Skinnygirl mogul says. "And look at all the holiday windows. She loves the lights, and the Christmas trees and she'll love the bells. She even has a little Santa outfit."
But even with her focus on family, Frankel still looks forward to hosting a festive evening during the busy holiday season. "Planning a party isn't about perfection – it's about having fun," she says.
Among her easy hosting tips: make an iPod compilation with party tunes (including a "wind down song" for the end of the night) and focus on soft lighting with lots of candles. "A bright party is really a killer," she says.
Most of all, don't sweat it in the kitchen, which often means buying prepared foods when time-crunched. "Even if you buy the cold shrimp platter at Costco, put it on a nice plate," she advises. "Try to make things a little more interesting."
The most important thing, she says, is to enjoy yourself. "I love the Christmas feeling especially when you live in New York," says Frankel. "And I can't wait to start our own family traditions together."
Menu:
• Peppermint Bark (see below)
•
Mini Sweet Potato Soufflés
•
Pom-opolitan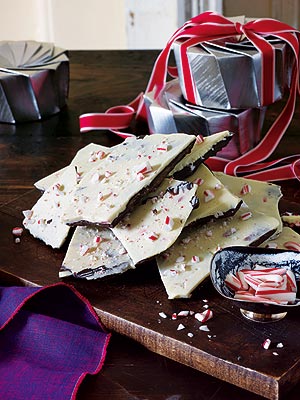 Peppermint Bark
Serves 6 or more
• 1 (11 oz.) bag white chocolate chips
• ½ cup crushed candy canes or peppermint candies
• 1 tsp. mint extract
• 8 oz. bittersweet chocolate, melted
1. In double boiler or bowl set over boiling water, melt white chocolate chips. Remove from heat and stir in crushed candy and mint extract.
2. Line a small sheet pan with wax paper. Pour in white chocolate mixture and spread evenly. Refrigerate until firm.
3. Melt bittersweet chocolate and spread evenly over white chocolate layer. Refrigerate until firm. Break into pieces. Store in refrigerator.
NEXT: Mini Sweet Potato Soufflés >