Bil Keane, the creator of
Family Circus
, died Tuesday of congestive heart failure at his home in Paradise Valley, Ariz. He was 89.
Born in Philadelphia, Keane taught himself to draw and eventually dropped the second L from his name when signing his cartoons in order to distinguish himself. His first cartoon was published in 1936 in the
Philadelphia Daily News
.
Keane served in the United States Army from 1942 to 1945. And, in 1960, he started drawing the one-panel
Family Circus
comic, which appears in nearly 1,500 newspapers across the country. He served as president of the National Cartoonists Society from 1981 to 1983.
In recent years, Keane's son Jeff had taken over drawing
Family Circus
, though Keane himself continued to sketch out the ideas and captions.
Keane said that he based many of the scenarios depicted in
Family Circus
on his own family. His wife, Thelma "Thel" Keane, died of Alzheimer's disease in 2008. His survivors include five children, nine grandchildren and one great-grandchild.
"He said, 'I love you' and that's what I said to him, which is a great way to go out," his son Jeff
told the Associated Press
. "The great thing is dad loved the family so much, so the fact that we all saw him, I think that gave him great comfort and made his passing easy. Luckily he didn't suffer."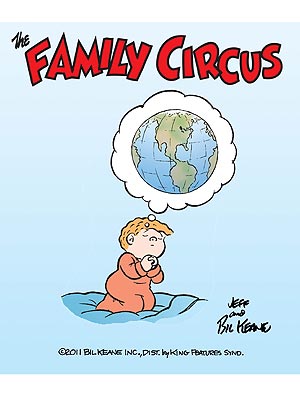 King Features Syndicate / AP