With the finale just around the corner, the top four a cappella groups made sure every note counted on Monday's episode of
The Sing Off
.
The vocal bands were challenged to perform a "mastermix" for their first song of the night, combining two songs from two different artists into one seamless medley.
Pentatonix took to the stage first, singing a mash-up of
Kelly Clarkson
's "Since U Been Gone" and "Forget You" by Cee-Lo, and were met with praise from all the judges. "I was smiling and grooving like a loser, so I think you've done your job," joked judge Sara Bareilles.
Next up was Urban Method, who performed what judge Shawn Stockman proclaimed the best arrangement they've done so far on the show, mixing Nelly's "Hot in Herre" with Peggy Lee's classic, "Fever."
Afro-Blue made a strong comeback after being in the bottom two the last two weeks with a vocal combination of "Fly" by Nicki Minaj and
Rihanna
, and "I Believe I Can Fly" by R. Kelly. The judges gave mostly positive feedback, with Bareilles praising the empowerment message of their performance. However, Ben Folds had issues with their background harmonies during the rapping portion of the song.
Closing the first round was the Dartmouth Aires, interweaving
Lady Gaga
's "Born This Way" and "Sympathy for the Devil" by the Rolling Stones. The judges seemed lukewarm, praising the group for their energy but expressing disappointment in the actual singing.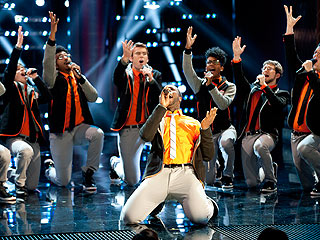 "This one fell off a little bit," said Bareilles, who still thought the group was "fun to watch." Stockman echoed her sentiment, comparing the Ivy League songsters to a party, but also saying it was "not my favorite performance of you guys."
For round two, the groups performed songs selected for them by the judges.
The first three groups all received unanimous praise from the panel. Pentatonix sang a high-energy rendition of "Dog Days are Over" by Florence + the Machine; Urban Method performed "All of the Lights" by Kanye West and Rihanna; and Afro-Blue injected their signature soul into Sam Cooke's "A Change is Gonna Come."
Afro-Blue's performance got an emotional response from Bareilles. "My eyes were just filling with tears," she said.
The Dartmouth Aires did not fare as well in this round, with the judges pointing out pitch problems in their lively version of "Shout" by the Isley Brothers.
After a deliberation, the judges put Afro-Blues and the Dartmouth Aires in the bottom two, and the groups went head-to-head performing encores of their strongest performance from past weeks.
Ultimately, the Dartmouth Aires and their performance of week seven's "Somebody to Love" by Queen beat out Afro-Blue, who did an encore performance of "American Boy" by Estelle.
The Darthmouth Aires, Pentatonix and Urban Method will face off in next week's live season finale, and the winning group will receive $200,000 and a Sony Music recording contract.
The Sing-Off
airs Monday (8 p.m. ET) on NBC.