George Clooney
has been known to go to great lengths for a prank.
Turns out he'll do the same for a dog.
The actor, now starring in
The Descendants
, tells
Esquire magazine
in its Meaning of Life issue that he first saw his new dog Einstein, a rescued "part cocker spaniel or something," on the Internet.
He fell in love with the pup's story immediately, and called the shelter to tell them he was interested in adopting the dog. The shelter said it was up to the dog to like Clooney, and if there wasn't a connection, they would find the dog a different home.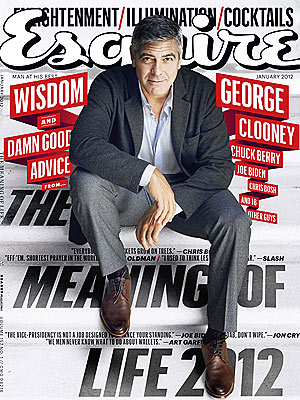 "I start to panic that Einstein is not going to like me," Clooney says of their first meeting. "So I run into the kitchen, where I have these turkey meatballs, and I rub them all over my shoes ... Who knew Einstein was such a food whore on top of everything? He throws himself at my feet."
Einstein instantly had a new home, "and forever, now, he just thinks of me as the guy with the meatball feet. He loves me. I can do no wrong. He follows me everywhere."
Clooney isn't Einstein's only friend. The actor's lady love, Stacy Keibler, has expressed her affection for the handsome pooch, even calling him "
my guy
."