When
PEOPLE interviewed
and photographed Aretha Franklin in her hometown of Detroit last spring, she had a ever-present, handsome and gregarious fellow at her side: William "Willie" Wilkerson.
And since the Grammy-winning singers' newest album was titled
A Woman Falling Out of Love
, it begged a key question.
"Is there currently a man in your life?" this reporter asked the Queen of Soul (while internally panicking about the protocol for addressing royalty about her love life).
"There, um ..." Franklin began, smiling. "Well, I won't speak about that at this time," she said, with just the slightest blush.
On Monday, the Queen of Soul said she and longtime love Wilkerson are
engaged
and considering a June or July wedding in Miami.
1. He and Franklin Go Way Back
The singer regularly refers to Wilkerson as her "forever friend," and for good reason. The pair were featured on the cover of
Jet
magazine in 1987 after dating for a few years. The cover language read: "Aretha Franklin Finds Happiness With New Love In Her Life," alongside a photo of the couple embracing. According to the
Daily Telegraph
, Franklin first met the former firefighter while signing autographs in Detroit. Wilkerson asked the singer to sign the cast on his leg and a friendship developed from there.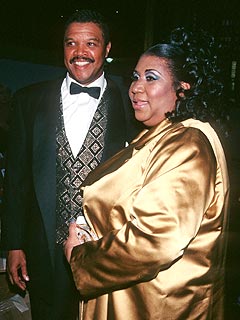 2. They're Compatible
In their 1987
Jet
cover story, Franklin and Wilkerson open up about their relationship. Franklin described the couple (she an Aries, he a Capricorn) as, "a fiery match ... we're very compatible." The singer would not say if their relationship was heading to marriage. But she did quip, "We're locking horns, baby!" Added Wilkerson with a kiss on Franklin's cheek: "She's a very warm, very loving woman."
3. Third Time's a Charm?
The legendary singer has been down the aisle twice before. Franklin was married to Ted White for eight years and then to actor Glynn Turman (
The Wire
) for six years. But she didn't give up on the idea of finding the One. ''I love marriage," Franklin has said. ''I love the institution."
4. He Gets Show Biz
A fellow Detroit native and well-known businessman in the area, Wilkerson understands two distinct sides to Franklin."I'm glad that he could make the distinction between the lady and the artist," Franklin told
Jet
. "Because a lot of men can't." Wilkerson even made a small foray into the music biz himself, appearing in
Franklin's music video
for "Jimmy Lee."
5. They Seem Like Good Pals
What better foundation on which to build a marriage? "Will and I are very close," she told a 2007 issue of
Jet
. The couple have been photographed everywhere from red carpet events to basketball games. "We stayed close and he escorts me on occasion and we're just cool. We're real cool."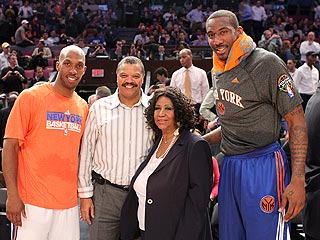 Wenzelberg / Splash News Online