Nominations are out for the
84th Academy Awards
. Here is PEOPLE Magazine critic Alynda Wheat's take on what went down at the Academy of Motion Picture Arts and Sciences.
Hugo?! Fine, Hugo.
Leading the pack with
11 nominations
is Martin Scorsese's kids movie that's not actually for kids. I confess that I still don't get it. Technically,
Hugo
is a triumph (you'll notice that the vast majority of its nominations are for technical awards), and Scorsese's nod for Best Director is certainly justified. But as a movie-going experience I still think it's remarkably cold (lectures about film history don't really move me). For my money, it's still a race between the French silent film
The Artist
and
The Descendants
, starring
George Clooney
, who did get nominated and Shailene Woodley, who missed the cut. Which brings me to my next point:
Snubs? What snubs?
Okay, sure,
Golden Globe
nominee Woodley might be a tad disappointed, as might Albert Brooks (
Drive
), Michael Fassbender (
Shame
), Tilda Swinton (
We Need to Talk About Kevin
) and even Steven Spielberg, whose amazing animated
The Adventures of Tintin
didn't rate a Best Animated Film nod, and who wasn't on the Best Directors list, in spite of the fact that his
War Horse
is a Best Picture nominee. But are these omissions actually snubs? Not really.
Can we all agree that 2011 was a weird year in movies? Very few films really captivated filmgoers and the pre-Oscars awards reflect that, with statues landing in all directions. With the exception of
The Artist
and
The Descendants
, both of which are up for Best Picture, Best Director, Best Screenplay, as well as acting nods, there's almost no consensus on what the best films of last year are. No consensus means no right to expect a nomination. Therefore, no snubs. But if
Kirsten Dunst
(
Melancholia
) wants to cry in her beer, I'll certainly buy a round.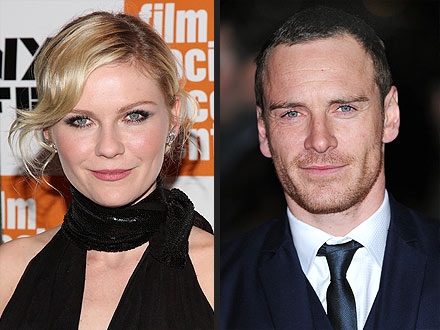 Rob Kim / FilmMagic; Landov
Go, ladies!
Don't get me wrong, I love any event where
Brad Pitt
(
Moneyball
) and Clooney show up in tuxes, where Gary Oldman (
Tinker, Tailor, Soldier, Spy
) finally gets some love, and where two incredibly talented foreign actors no one in this country had heard of until last year (
A Better Life
's Demian Bichir and
The Artist
's
Jean Dujardin
) also nab invitations. But this year really belongs to the actresses.
Between Meryl Streep (
Iron Lady
), Viola Davis (
The Help
), Michelle Williams (
My Week With Marilyn
), Glenn Close (
Albert Nobbs
), and Rooney Mara (
The Girl With a Dragon Tattoo
) the Academy couldn't set a wrong foot if it tried.
And don't even get me started on Melissa McCarthy's nod for
Bridesmaids
in the Supporting Actress category! I've had my fingers crossed for that one since last May, and now I'm pretty sure they're stuck that way. Besides, if you aren't happy for Octavia Spencer and Jessica Chastain (
The Help
) or Janet McTeer (
Albert Nobbs
), then I'm afraid you may not know what happiness is.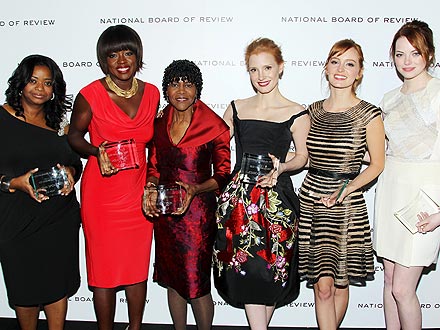 Marion Curtis / Startraks
Don't call it a comeback ...
Woody Allen never left. But with nominations for
Midnight In Paris
as Best Film, Allen as Best Director, and his script in the Best Original Screenplay category, it's certainly a good year for the guy making his 40th film. And what a beautiful, poetic film it was. If you still haven't seen it, go. If you've somehow made it this long without anyone spoiling it for you, all the better.
In fact, let the Oscar nods be your invitation to check out films you still may not have seen: Mara's incredible performance in
Dragon Tattoo
, Max von Sydow's gorgeous (wordless!) turn in
Extremely Loud and Incredibly Close
, Oldman in the cracking British spy drama
Tinker, Tailor, Soldier, Spy
, and of course, my strong favorite for Best Foreign Film,
A Separation
. Here, I'll make it even easier for you: my pick for Best Documentary is
Paradise Lost 3: Purgatory
, and it's on demand on HBO.
And finally, Muppets!
I told you the rock ballad "Man or Muppet" by Bret McKenzie (yes,
The Conchords
' Bret McKenzie) was an amazing song. Now, the Academy thinks so too, since it's only one of two tunes picked for Music (Original Song) – the other from the animated film
Rio
. Maybe it's sad that this is the nomination that made me squeal this morning. But if it's wrong to be thrilled that the Muppets get a fifty/fifty shot at an Oscar, I don't want to be right.
The big show is February 26. If you've any ideas on who'll take home little gold men let me hear 'em!