The image is blurry, but the sentiment comes through: 22-year-old elephant Panang brushes her trunk against her baby Lola's head, and with sadness and affection, she says goodbye.
Tragically, 3-month-old Lola died Saturday during a CAT scan at Munich's
Hellabrunn Zoo
. She was to undergo surgery that would treat a serious heart defect that left her just days to live, but the elephant calf did not make it.
Lola's body was brought back to the herd that afternoon, where Panang and the other elephants grieved her passing.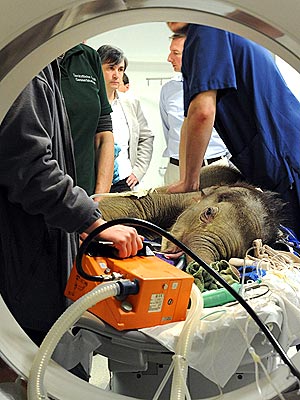 According to the zoo, Lola suffered a massive pulmonary embolism, but had she not died, she would likely have been euthanized because her condition was so severe.
"Considering the pathology, it has to be said it's a miracle that she lived as long as she did," says zoo director Dr. Andreas Knieriem. "Her arteries were so blocked that blood couldn't flow through her lungs anymore."
"We are all so very sad that we couldn't help Lola," Knieriem says. "Our only consolation is that we tried everything possible to save this baby elephant's life."