Just like
Eva Mendes
and
Ryan Gosling
's
fairytale Disneyland dates
, working together on
The Place Beyond the Pines
was also a fantasy come true for the happy couple.
"He's your dream costar," Mendes, 37, tells
Marie Claire
in its March issue. "I have never felt so creatively satisfied on a film. He's amazing."
But that's about as much as the notably private actress would reveal about Gosling, 31, who Mendes was first photographed holding hands with in September.
"Stop, just stop," she told the magazine's reporter with a laugh when he attempted to begin a follow-up question about her beau. "I'm not gonna budge. I feel uncomfortable talking about it. It's too personal."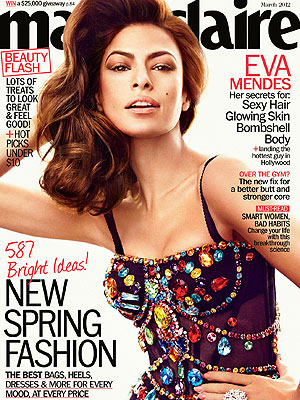 That's not the only subject off limits for Mendes. She also refused to address the possibility of getting married or becoming a mom at some point (not necessarily relating to Gosling).
"Those are such boring topics to me," she says. "I am not that girl. I don't like talking about things that I want in the future because I feel by verbalizing such things, they won't come true."