Just a few weeks ago, Mini the cat was awaiting a grim fate. Now, she's a purring Picasso.
The cat's rescuers, Louise Clayton and her daughter Tegan Ellis, have taught the petite kitten and two of her furry friends to paint with their paws, all in name of charity.
According to Australia's
Herald Sun
, the mother and daughter pair, who have saved the lives of about 30 animals through their grassroots rescue efforts in Wagga Wagga, New South Wales, plan to help more needy animals in the area by selling their rescue cats' artwork.
"We put paint out for them and they walk across, and they play with balls we put out," Ellis said. "It's just a bit messy because once they finish they just wander off."
In just a week, the mini Monets have created six original paintings (all using non-toxic, kitty-safe paint) which are available for purchase through the Rescue Cat Art page on
Facebook
. Prices are available upon request by emailing walburn@bigpond.com.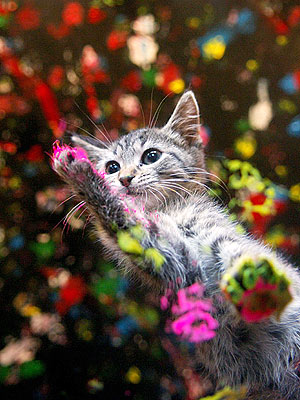 Clayton and Ellis told the
Daily Advertiser"
that they've spent about $30,000 helping injured and homeless pets so far, and plan to use the additional money they raise to fund medical procedures for their other rescue cats.