Katharine McPhee
is hot, hot, hot – not just because of her starring role on the new hit TV show
Smash
, but because of her sexy, svelte figure, too.
The
American Idol
alum, 27, opens up to
SELF
magazine about her busy life and how she stays in bikini-ready shape.
McPhee arrives on set every morning at 6 a.m. ready to get in hair and makeup. But before she puts on her Marilyn Monroe wig, she eats a balanced breakfast of oatmeal and turkey bacon. McPhee's dream breakfast? The "four cheese omelet, crispy turkey bacon, fresh OJ and wheat toast with butter and jam" from Todd English's Ca Va.
At lunch, McPhee confesses she'd love to eat "crab cakes and fries" from Barneys, but usually has chicken and brussels sprouts.
To keep herself svelte, the actress does a daily five-hour dance rehearsal. Despite a grueling day, the actress – who lives with husband Nick in Manhattan – is thrilled about where life has taken her.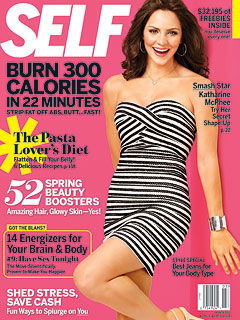 "I feel like a different person than I was after
Idol
. I get the celebrity game now – you can go from being hot to fighting to be seen," she says. "You have to be aware of how superficial it is and that people who have written you off do eventually come back."
And McPhee sends the message that hard work pays off. "I dreamed about this and now, because I had those dreams – and the drive – I'm actually here."