Would you expect anything less than the best from Martha Stewart?
Stewart's 2-year-old chow chow, Ghenghis Khan, won Best of Breed at the Westminster Dog Show Monday, and the proud mother in her came out right away.
"Ghenghis Khan did it! Best of Breed at Westminster! Big deal," Stewart
Tweeted
, with a photo of G.K. posing beside his ribbon. The pooch, the great-grandson of Paw Paw, Stewart's former chow, advanced to compete with the other non-sporting dogs in Best of Group Monday night, but his run ended there; the Dalmatian placed first.
G.K., whose
formal name
is Ch Pazzazz's Genghis Khan #8, had some help getting groomed and bathed prior to the show, but not much. "He's not a hard dog to take care of," Stewart said in the press room before going out to see G.K.'s showing. "There's not much prep work needed since he always looks good anyway."
Additional support from Stewart's French bulldogs, Francesca and Sharkey. The little cheerleaders posted about their excitement leading up to G.K.'s big day on their blog,
The Daily Wag
.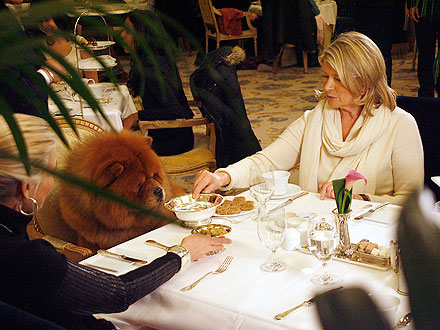 Sylvain Gaboury / PatrickMcmullan.com / Sipa
G.K. also squeezed in a little pampering in one of New York's swankiest locales. "Ghenghis Khan slept at the wonderful Plaza Hotel," Stewart
Tweeted
hours before he walked the green carpet at Madison Square Garden.
"We hung out, we went for a walk in Central Park – he loves Central Park," Stewart said Monday. "He loves the city. He loves coming in from Bedford and spending time in the city. He's an Arctic dog, so the colder the better. This is his favorite time of year."
–Additional reporting by Kimberly Peiffer