Former lacrosse teammates of George Huguely V testified against him Wednesday as the prosecution wrapped its case in
his murder trial,
while the defense brought its first witness – a doctor who said Yeardley Love died of suffocation, not blunt force trauma.
Jan Leestma, a neuropathologist, contradicted the prosecution's medical witnesses, saying he saw swelling on Love's brain but no sign of the kind of injury caused by blunt force trauma,
The Washington Post
reports.
"I could not conclude it is trauma," he said. Instead, he suggested, she suffocated on a bloody pillow. The lack of oxygen to her brain likely caused the swelling, he claimed, and the rush of blood during resuscitation attempts caused the bruising.
The prosecution is arguing that Love, 22, died of injuries directly sustained from Huguely in
the May 2010 incident
– that he shook her violently until her head banged against a wall.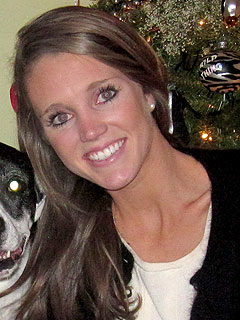 The defense says it was a tragic accident, and that Huguely's actions did not directly kill Love, his on-and-off girlfriend and a fellow lacrosse player at the University of Virginia.
One of the final witnesses for the prosecution, Ken Clausen, a former lacrosse teammate of Huguely's, testified Wednesday that Huguely lied about where he had been when he returned home from Love's apartment. Clausen said Huguely's demeanor had changed and that he was so drunk he wasn't making any sense,
Thursday's Today show
reports.
Clausen said Huguely, now 24, claimed he had been downstairs in an apartment with two other teammates. But Clausen later checked and discovered that wasn't true.
Other teammates also testified that Huguely had been drinking heavily all day, and that he had a blank stare on his face when he returned home that night.