Kristen Bell
is going to be
so
jealous
!
During a visit to Busch Gardens in Tampa, Fla., rocker Bret Michaels got to know a few members of the zoo's Animal Ambassadors team, including Harry the sloth, who enjoyed a big hug from Michaels.
Michaels took to the stage at Busch Gardens' Bands, Brew & BBQ festival over the weekend, and began an unusual pre-show ritual by hanging out with Harry, a young southern ground hornbill named Tufts, and a Burmese python.
Who made the biggest impression? Sorry, Harry, but it looks like Tufts really got Michaels's attention. The star posted five times on Twitter about his encounter with the hornbill. When one fan remarked, "This bird is like a friggin' Volkswagen," Michaels
replied
and said, "You ain't kiddin'."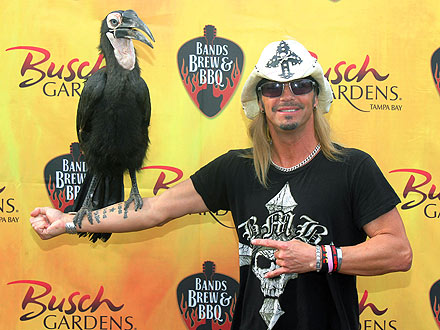 Courtesy Busch Gardens Tampa Bay