After
American Idol
's top 13 tackled songs by
Whitney Houston
and Stevie Wonder
Wednesday night
, early favorites – like Phillip Phillips and Jessica Sanchez – have emerged.
Others, like Elise Testone and Shannon Magrane, however are looking to Thursday's live elimination with worry.
Magrane, who fumbled her version of "I Have Nothing," said she's taking the criticism she received Wednesday in stride.
"I am not letting it get the best of me," she said. "I am just hoping to take that in and hoping to get even better than I am now. I am actually very glad that they gave me that feedback ... because I agreed with them. It wasn't my best. I can be 10 times better and they know that."
Testone, however, felt the sting of the judges' remarks about her take on "I'm Your Baby Tonight," a song she hadn't heard until a few days beforehand.
"I was nervous about it because I didn't really know that song," Testone told PEOPLE. "I just tried to give it everything I have and I was kind of sad about them giving me negative feedback."
"I was surprised I got such a bad review," she added. "I didn't hit any wrong notes or anything. I feel like they were a little bit hard on me, and that may be because things have been going pretty well for me. Maybe they were trying to bring it all back and level it out. It kind of hurt my feelings but I am trying to be professional about it."
Meanwhile, Phillips, who won praise for his take on Wonder's "Superstition," told PEOPLE after the taping that he was so flustered, the entire feedback process is a blur. "It went better than I thought," he said of his performance. "I honestly can't remember what they said to me. I was so out of it."
His pal Heejun Han was paying such close attention to the judge's comments that he may have over-interpreted
Jennifer Lopez
's profession of love for his singing. "I knew Jennifer loved me for a long time," he said after the show. "I could just tell by the way she was looking at me and now it's time for me to step back a little bit because this is still a business, and business first and then the relationship."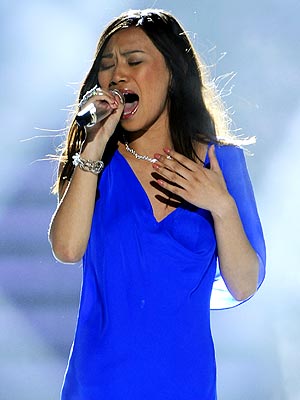 When asked if he was trying to give Lopez's
boyfriend, Casper Smart
, a run for his money, Han quipped: "I don't want to call him a boyfriend. I want to call him a vacation. At the end of the day she will come home to Heejun."
Jessica Sanchez, who received a standing ovation for her take on Houston's "I Will Always Love You," said it was "amazing" to hear Randy Jackson call her "one of the best singers in the whole competition."
"All their comments were amazing," Sanchez told PEOPLE. "It went by so fast and the adrenaline went though me so much that I don't even know what happened."