The soldier's family was stateside when the devastating news hit: the Army staff sergeant stood accused of slaughtering 16 Afghans, most of them women and children.
Then a second reality struck. His wife and two children, ages 3 and 4, were considered to be in serious danger and had to be moved from their home to a military base outside Tacoma, Wash.
"They were totally shocked," says the suspect's attorney, John Henry Browne, of the reaction of the family to the arrest and allegations.
The soldier is accused of leaving his base outside Kanduhar early Sunday morning and embarking on a killing spree, taking the lives of nine children, three women and four men.
Although his name has not been officially released, multiple press reports identified him as Staff Sgt. Robert Bales.
After being kept in protective custody in Kuwait, he was expected to arrive Friday evening at Fort Leavenworth, Kansas, says Browne, who spoke with his client by phone.
"He sounded distant and kind of like a deer in the headlight but okay. I conveyed his family's love for him," says Browne. "I told him I did not want to speak to him about specifics of the case because I don't trust the phone not being monitored."
Little is known about the solider, other than he's 38 years old. Some media reports say he is originally from Ohio.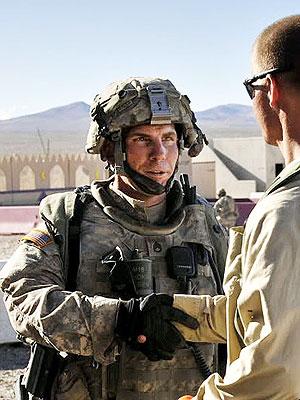 Spc. Ryan Hallock, 28th Public Affairs / U.S. Army / ZUMA
He's been in the military for 11 years, having joined in the weeks after 9/11, with three tours in Iraq before going to Afghanistan. According to the Associated Press, he is from a brigade that uses the Stryker eight-wheeled light infantry vehicle.
There's even less information about his family, now at the Joint Base Fort Lewis-McChord. His reportedly works as an executive in a Seattle-area company.
"There is great concern about their security. It could be weeks before his identity is revealed," says Browne, who met with the soldier's wife on Wednesday. "We are doing everything the government is asking us to do to protect his identity."
Browne dismisses reports of marital problems as a possible motivation for the killings, characterizing their marriage as "strong."
As for reports that the soldier was suffering stress, the attorney notes that his client went to Afghanistan after three tours of Iraq left him with both physical and mental wounds.
"I am confused why they would send him back to Afghanistan," says Brown, adding that his client had told his family he wasn't going back to the Middle East. "The family was counting on him not being redeployed. I think it would be fair to say he and the family were not happy that he was going back."