When
you're hot
, you're hot, right down to your underwear.
Tim Tebow's
photogenic kisser
– and nothing more – is taking center stage on a digital billboard advertising Jockey brand underwear and also welcoming the former Denver Bronco to his new team, the New York Jets.
"We Support Tebow & New York – Jockey," reads the billboard, which stands on the New Jersey side of the Lincoln Tunnel that links Weehawken to Manhattan.
Some half a million commuters are expected to see the ad, reports
ESPN
.
Meanwhile on Monday at a news conference in the Jets field house, the press got its first in-person look at the real Tebow since he joined the team. Many of the questions had to do with incumbent quarterback – and fellow
attention-grabber
– Mark Sanchez, with whom Tebow says he's exchanged texts.
"From my conversations about him he was excited to be working with me, and I am excited. I have a lot of respect for him as a person, football player," Tebow said, according to the
New York Post
. "We talked about that. I am excited about that opportunity."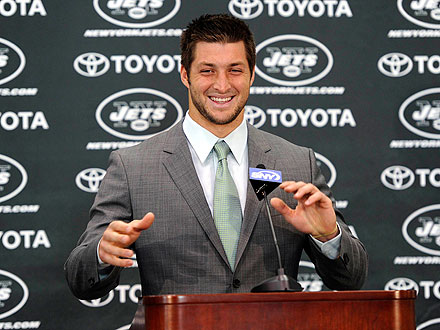 Ray Stubblebine / Reuters / Landov