Sir Anthony Hopkins won an Oscar for playing one of the biggest psychos of all time, Hannibal Lecter, in
1991's The Silence of the Lambs
.
Now he's playing the man who directed the movie that had all of America screaming,
Alfred Hitchcock
, at the time the Hollywood legend was making his classic 1960 film
Psycho
.
Here, in this first look from
the movie Hitchcock
, which began shooting last Friday (Hitch would have loved the date, Friday the 13th), Hopkins, 74, is seen as the bald, portly and droll 60-year-old.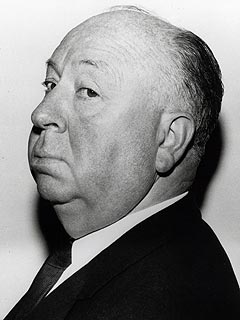 Michael Ochs Archives / Getty
Also in
Hitchcock
, which is being directed by Sacha Gervasi, is Helen Mirren as the director's stalwart wife, Alma;
Scarlett Johansson
as
Psycho
's short-lived
leading lady Janet Leigh
(who takes a famous shower);
Jessica Biel
as actress Vera Miles (who played the sister of the Leigh character); and James D'Arcy as
Psycho
's leading man
Anthony Perkins
(who played mama's boy Norman Bates.)