The end of
Desperate Housewives
has been bittersweet for
Vanessa Williams
. On one hand, she's saying goodbye to a show that she loves, but on the other, she's saying hello to a new puppy.
The actress has adopted an 8-week-old blue harlequin Great Dane named Grayson, who she is bringing home this weekend. He joins her other Dane, Willa, who turns 6 later this month.
"I'll be a mom of two," Williams tells PEOPLE. "I'll have time now to train and to integrate him into our family."
The actress and author – her new memoir,
You Have No Idea
, was released last month – actually has her job to thank for bringing Grayson into her life.
"My makeup artist [on
Desperate Housewives
], who I had given a blue [harlequin] to for her birthday three years ago, had gotten an email about a new litter," Williams says. "I said, 'I'm just going to take a look and see what the litter looks like.' There were nine of them and they're all gorgeous – but I had my eye on one." She fell hard for Grayson, who is named for his stunning blue-gray coat and eyes.
Williams first developed a love affair for the breed after adopting Willa several years ago. "They are the easiest dogs I've ever had. They're lovable, but they love their owners," she says. "Contrary to what people might think, they sleep probably 80 percent of the time. Love to lay out in the sun in the heat – I just love them."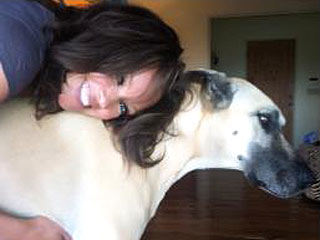 Courtesy Vanessa Williams