Life already seemed pretty peachy for Tony Romo and
his wife Candice Crawford
since they wed a year ago, but adding
son Hawkins
to the mix last month has made it even sweeter.
"If it's possible to bring you and your wife closer together, something like this really does," Romo, 32, told PEOPLE during a recent photo shoot for
Starter
athletic wear.
"It strengthens your family values and your family and the love you have, which is already really strong. It's been a great blessing from God to put us in this situation. We feel very honored."
The Dallas Cowboys quarterback says it's "definitely hard" to be away from his baby and beautiful wife, 25, but knowing she is supportive of his career makes being away for work that much easier.
"If you get a great wife who understands the demands of someone in athletics, I think that's important," Romo explains. "I was lucky enough to find someone like that. She's a great mom and a great wife. It's been fun just
hanging out with her and my son
. It's been exciting."
Romo and his love have already even witnessed a little milestone.
"You want to see everything," he says. "At 3 weeks old, we were having him lay down, and we put him on the floor. And all of a sudden he just rolled himself right over. That was pretty neat to see."
Being a good father shouldn't be
too
challenging for Romo, who has already enjoyed acting as a role model in the athletic community.
"It's a wonderful position to be in, to have the ability to affect some of America's youth when they see you and you're working hard and doing things the right way," he says. "Little do you know that some of the choices that you make are being watched."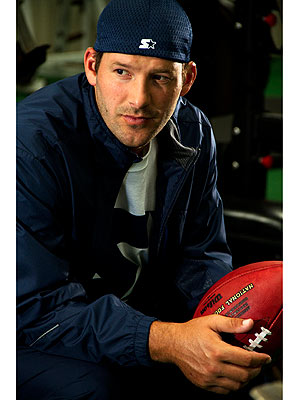 As for his decision to be the face of the Starter line that is being sold exclusively at Walmart, Romo sums it up easily.
"It's a brand that represents high-quality performance gear at an affordable price," he says. "Growing up, that was something I always looked for because I was going through shirts like they were water."