It was good thing
Will Smith
isn't promoting
Ali
or one journalist may be a little sore right now.
The actor was walking the red carpet for the Moscow premiere of
Men in Black 3
when a TV reporter kissed him on one side of the face and then the other, a
TMZ video
shows.
"What the hell is your problem?" says Smith, who then pushes and slaps at the amorous journalist.
Smith laughs about it and tells another reporter down the line, "He tried to kiss me on the mouth. He's lucky I didn't try to sucker punch him. ... Sorry, I said that on camera."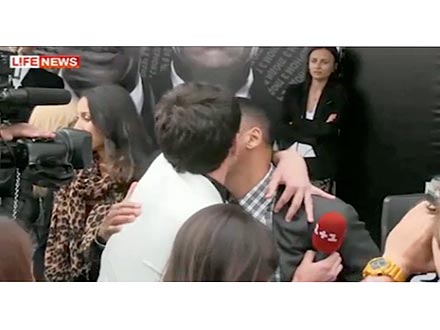 An onlooker says the reporter had asked Smith for a hug, and the actor agreed. As they started to embrace, the reporter planted multiple kisses, with his lips touching Smith's.
"He was still a good sport about it and thought it was funny after the fact," says the onlooker. "He was laughing and joking about it. He continued doing the press line for another hour and signing autographs and taking pictures with fans."