Auditions for the new season of
The X Factor
are underway – and now you can take a peek at
brand new judges
Britney Spears
and
Demi Lovato
in their newest roles.
The ladies joined L.A. Reid and
Simon Cowell
at the judges' table for two rounds of auditions on Thursday in Austin, Texas.
So, how were the contestants?
"Texas has a lot of talent - seriously! Loving @TheXFactorUSA auditions so far," Spears
Tweeted
Thursday.
She also took to Twitter to address some online reports that she walked off the set after someone who was auditioning offered a less-than-stellar rendition of her hit "Hold It Against Me."
The singer Tweeted: "#Britneywalksoff??? LOL was just taking a little break people. I am having the BEST time!!!"
And a source close to the show tells PEOPLE, "She was not upset. She just took a short break, which is not uncommon for judges to do in these taped shows."
Another source on the production clarified Spears's brief absence, telling PEOPLE, "The judges are allowed to get up at any point. The show isn't so strictly structered as
[American] Idol
is. When Britney got up, she went to fix a small wardrobe issue and had a bathroom break."
For her part, Lovato was equally impressed with the performers: "Such an amazing day...can't wait to do it again!!! #XfactorUSA," she Tweeted.
And Lovato and Spears got interactive, according to the source, who says, "[Britney] had a great time and even danced with Demi during one contestant's performance."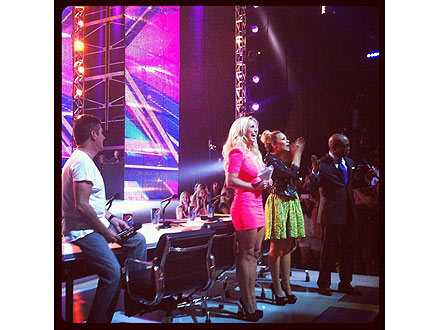 • Reporting by Jennifer Garcia and Marisa Laudadio