In his first interview since serving more than three and half years in prison, Raffaello Follieri spoke to PEOPLE about his romance with
Anne Hathaway
– and how it all went wrong.
"We were talking about marriage," says Follieri, in an interview that took place in his native Rome. "I was very much in love with her."
But his arrest in 2008 brought an
abrupt end
to their four-year relationship, and the dashing Italian businessman pleaded guilty to 14 counts of
wire fraud, conspiracy and money laundering
.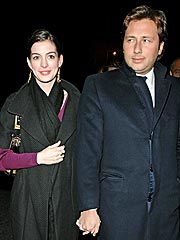 Asadorian-Mejia / Splash News Online
In the wide-ranging interview, the 33-year-old discusses his life in the spotlight, the "mistakes" he made and his time in federal prison in Loretto, Pa.
When he first entered prison, "I thought my life was over," he says. "But I learned to survive by focusing on getting through one day at a time."
As for his fall from grace, "I'm not a saint," he says. "But I'm not the devil."
For more from the exclusive interview with Follieri – including details of his relationship with Anne Hathaway – look for the story in an upcoming issue of PEOPLE