Look, but don't touch!
Kate Walsh
got up close and personal with some sharks and even a sea turtle during a six-day trip to Belize beginning on June 8, which marked World Oceans Day. The actress, a guest of Oceana, visited the country to raise awareness about protecting the world's oceans, but also found time to snorkel and check out local landmarks.
"Belize's barrier reef is amazing!" she
Tweeted
. "Did u know it's the 2nd largest reef in the world?"
During her visits to the Hol Chan Marine Reserve and Shark Ray Alley, Walsh squeezed in some alone time with a pair of aquatic animals, getting face-to-face with ashark and swimming alongside a turtle while wearing her Nautica rash guard.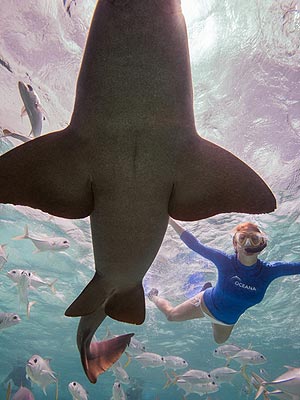 "One of the things that is really impressive about Belize is … this vast plethora of not only coral and reef life, but all of the animals that go with it," she said. "Things that I have never seen before."
"This was my first trip ever," Walsh continued, "and I can't wait to come back."