There is no shortage of lawyers involved in
Katie Holmes
's
divorce
from
Tom Cruise
. But the attorney who may have played the most important role is not even handling the case.
Martin Holmes, 67,
helped orchestrate
his daughter's
sudden split
from her husband of five years, as PEOPLE reports in this week's cover story, on newsstands now.
A University of Toledo law school grad and member of the Ohio Bar since 1971, he practices in areas including personal injury, business litigation, probate and matrimonial law.
"Marty is very rigid – it's his way or the highway," says a Toledo attorney who has worked with both Martin Holmes and his son, attorney Martin Jr., on cases. "Marty believes there are only two sets of rules: the rules of the court and his rules, and he carries himself that way."
Along with his homemaker wife Kathy, 65, Martin raised five children: Tamera, 44, Holly, 43, Martin Jr., 42, Nancy, 38, and the baby of the family, 33-year-old Katie.
As parents, Martin and Kathy "laid down the law but always with a lot of love," a relative told PEOPLE in 2006.
After their youngest daughter began dating Cruise, 50, in 2005, rumors quickly emerged that the actress's parents were wary of the relationship. But publicly, Martin was always supportive of Cruise, calling him a "humanitarian" in a statement to
Access Hollywood,
and both Tom and Katie denied any tensions with her family.
"Some of the crap that's out there – the stuff that's said about my parents and my siblings [not hitting it off with Tom], it's really frustrating," Holmes told
Vanity Fair
in 2006 after welcoming daughter Suri.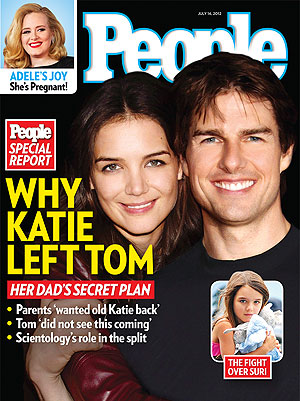 And indeed, at the rehearsal dinner for
the couple's wedding
in November 2006, Martin offered an emotional and welcoming toast to his famous new son-in-law.
"There is a line in the movie
Father of the Bride
where Steve Martin talks about how a time comes when you have a daughter that you stop worrying about her meeting the wrong guy ... and you worry about her meeting the right guy," Martin said. "It didn't take much time before I realized this Tom guy was a special guy – that he loved Katie, that he cared for her and supported her. Tom expressed his love many different ways – I like that. I respect men who are not afraid to show their feelings. I respect Tom for the commitment he has made to provide happiness and love to Katie."
•
With reporting by MYNDI MILLIKEN
For much more on the split, including Holmes's dramatic exit from the marriage and the legal battle ahead, pick up this week's issue of PEOPLE, on newsstands now