When
Reese Witherspoon
married Jim Toth
last year, the actress chose her Ojai estate for the big day – and now she's giving fans a glimpse of the country chic spread.
"[Libbey Ranch] reminds me of growing up in Tennessee, where we spent all day outside," she tells
Elle Décor
in its new issue, on stands Aug. 7. "I wanted my children to have that experience, to get muddy and hang out with the animals."
In a photo spread, Witherspoon, 36, reveals the bedrooms of daughter Ava and son Deacon – the rooms were decorated with designer Kristen Buckingham – and says the most popular area is what she calls the "great room."
"Everyone congregates around the stone fireplace in the great room. It's cozy and warm," she explains. "In the summer, it's the coolest room, because of the stone."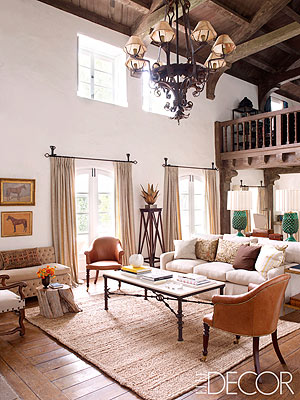 But above all, the home, where she also hosted a 20-person Thanksgiving dinner last year, is her retreat from her busy life in L.A.
"[The house] is meditative and restorative. As soon as I drive through the gate, I relax," she says. "The air is fresh, the phone isn't ringing, you can't access e-mail. Time slows down. Within an hour I'm lying on that couch taking a big fat nap. It's like having a little bit of Tennessee in California."
For more photos, check out this week's issue of PEOPLE magazine, on newsstands now