Miley Cyrus
is used to being in control, but when it comes to the sparkler she's wearing from fiancé
Liam Hemsworth
, she admits it was
all
him.
"I had no input," she tells
Marie Claire
in the September issue cover story, of her 18-karat Neil Lane bauble, hand-cut in the late 1800s.
"I saw it online at one point and thought it was really pretty. I just love that it's old and has a story. And I'm happy because it doesn't look like anything else I wear."
Cyrus, 19 – whose
engagement
was announced by PEOPLE on June 6 – has no reservations about her decision to tie the knot, but notes that she isn't walking down the aisle soon.
"Life is too short not to be with the person you want to be with," she explains. "I don't really care about the wedding or the piece of paper as much as I do the promise we've made to each other. And we want to have a long engagement."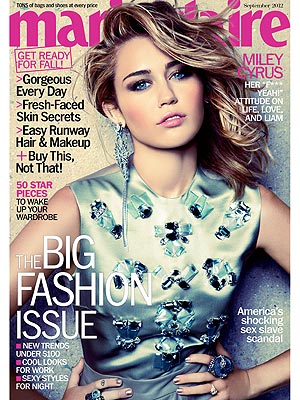 Part of what makes Hemsworth, 22, "the one" for the former Disney starlet is the couple's mutual trust.
"Liam and I have a really good relationship," she says. "Neither of us is super jealous. We know each other and would never do anything to hurt each other."