Temptation is tough – just ask Nina Dobrev.
The
Vampire Diaries
star, 23, went into filming CW's hit series with every intention of keeping things strictly business. Instead, she ended up with a boyfriend: costar Ian Somerhalder, 33.
"The first time I was on the cover of
Seventeen
, the cover line said, 'Nina: Why she wouldn't date any of her costars,' " she recalls to the
magazine
in its October issue. "And then cut to two years later ... it's funny that I said that."
Dobrev, who has managed to keep the relationship with her beau
private
, admits, "I didn't want to be dating one of my costars. My goal on the show was to be professional. But sometimes you can't help who you have a connection with, and you can only fight it for so long – which I did for a really, really long time."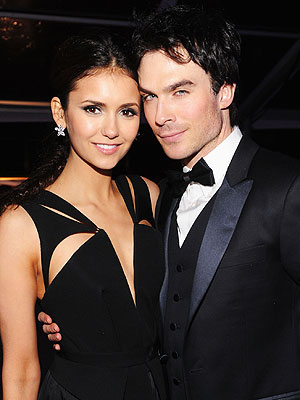 Jamie McCarthy / Wireimage
Even though her romance keeps her busy, the actress, who also stars in the upcoming coming-of-age-themed film
The Perks of Being a Wallflower
, still makes time for her gal pals.
"Girls weekend with the
Vampire Diaries
girls has become a big deal," she says. "It's our quality time. It's so much fun to unload and not feel guilty complaining or talking about your insecurities or bonding over things that you thought you were on your own about."
Of their outings, Dobrev says, "We go to dinner or cook dinner together, watch movies, lie on the beach and take tons of pictures. This year, we went to Disney World. I wanted to have funnel cake and pop, and just be immature with my girls."
Continues the actress: "Even though you're growing up, you should never stop having fun."