Carrie Underwood's
idea of a break? Kitten time!
Underwood visited her hometown animal shelter in Checotah, Okla., this weekend, getting covered in cat hair – on purpose – in the name of adoption.
"Hanging out at the Checotah animal shelter! Anyone want a kitten?" she wrote on
Twitter
. "I think we have a few!!! Ha ha!"
The singer is a self-professed animal lover and mom to
rat terrier Ace and dachshund mix Penny
. On Sunday, joined by mom Carole, Underwood stopped by the shelter, which is where she adopted Penny in 2010.
"She comes to visit every time she comes to see her mom," shelter director Kate Paris tells PEOPLE, adding that the pair help out at the shelter whenever they can.
Underwood spent 45 minutes visiting homeless dogs and cats but was particularly smitten with a pile of kittens. "She got all the kittens up on her lap and loved on them," Paris says. "She really cares a lot for animals."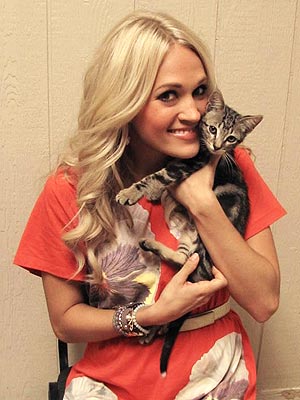 Courtesy Carrie Underwood
During the visit, the star gave special attention to one stray cat discovered in a parking lot earlier that day.
"[Carrie] just loved on him," Paris says. "All he wanted was somebody to pay attention to him."
Underwood also
posted a photo
of the cat and wrote, "Someone left this one at the grocery store."
Though she left the shelter empty-handed, Underwood said she had plenty of friends who were looking to adopt. Paris is grateful for the support, adding, "She's real busy because she is fixing to go on tour, but every time she comes this away, she stops by."