Over the decades in the dating department,
Cameron Diaz
has been seen with Matt Dillon,
Justin Timberlake
and, again earlier this year,
Yankee slugger Alex Rodriguez
.
But marriage? Not for her – so far, she tells November's
U.K. edition of Esquire
, on sale Thurs., Oct. 4.
"It just wasn't the thing I was drawn to. I certainly didn't want it in my 20s. Or my 30s," the star, who also poses provocatively for a series of
photos accompanying the interview
, tells the magazine.
But now, having turned 40 on Aug. 30, she is more open-minded about marriage. "We'll see!" she says.
What does she look for in would-be suitors? "I want someone who takes care of themselves, who's strong. To hear people are engaged in life like that is exciting to me," she says.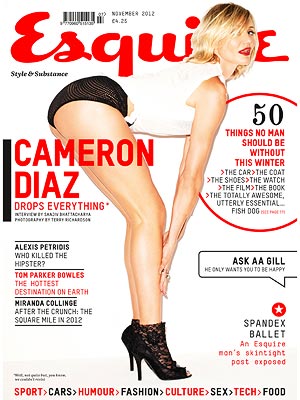 Terry Richardson / Esquire UK
Though she is currently happy not to have kids, Diaz, who recently starred in the comedy
What To Expect When You're Expecting
, has not ruled out having them someday.
"I don't need to have the children in my life be a part of my literal flesh," she says. "And anyway, there's still a possibility of that, I ain't that old. I'm feeling very ... capable."
Clearly comfortable in her own skin, Diaz says: "For the first time in my life I'm content. Getting older is the best part of life. I know myself better. I feel more capable than ever. And as far as the physicality of it – I feel better at 40 than I did at 25."