It started innocently enough, but it usually does.
Sorority sisters Sarah Bourland, Natalie Zaysoff and Kendall Harlan were on a spring break cruise in their sophomore year at Texas Christian University in 2008 when they stopped at the Stingray Island attraction in the Cayman Islands.
A souvenir photographer stopped the group to take their picture with one of the stingrays, and the women smiled as the animal floated nearby. As they started to move away, a tour guide suddenly threw the stingray up into the air, and as it landed with a thud on their backs, Bourland, Zaysoff and Harlan grimaced – and the photographer pushed down on the shutter just in time to capture their expressions.
"We had no idea that was happening," Harlan tells PEOPLE. "Those are genuinely frightened faces."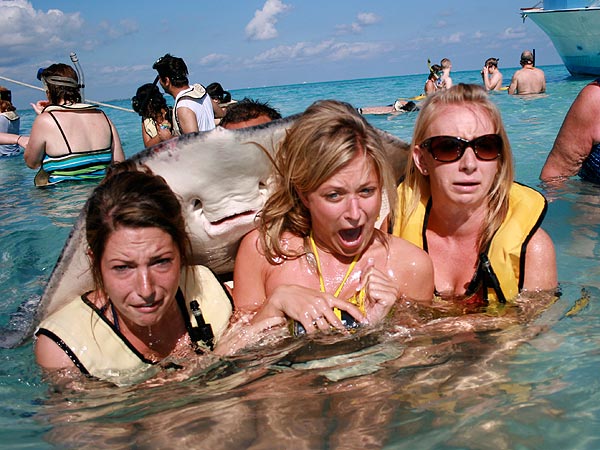 The feeling of a stingray on their backs was not a pleasant one ("It's not something that you want on you, ever," Harlan says) but the friends could still see the humor in
the resulting photo
. They posted their vacation shots to Facebook, including this one, and were surprised when its popularity spread outside their friend circle.
"We would see people we didn't even know looking at this picture in the library," Harlan says.
Five years later, a close friend who remembered the image posted it to Reddit, and that's when things really went viral, and Harlan heard the news last week that the photo ended up on
Good Morning America
. She credits the snapshot's resurgence to the notion of photobombing, "which has become a buzzword and trendy," she says. "Back then, there wasn't really a name for that."
Whatever the cause, the week has been a memorable one for Harlan and her two pals (all of whom remain close). She says, "It's been fun having people laugh along with us."