Shot and stabbed in a vicious nighttime attack, William Van Note, 67, a wealthy retired accountant, lingered in a Columbia, Mo., hospital for several days until doctors took him off life support.
It was thought to be his last wish: His daughter, Liz, 44, an attorney who specializes in end-of-life issues, had produced a healthcare directive with his signature giving his blessing to pull the plug if incapacitated.
But in a shocking twist, police say that document was part of Liz Van Note's scheme to murder her own father. She allegedly was behind the October 2010 attack and, when that failed to kill him, forged the document to take him off life support.
"This is one of the most bizarre murders we've seen," Detective Sergeant Chris Moehle of the Camden County, Mo., Sheriff's Department tells PEOPLE. "Especially how cold and calculated it was. The attack was violent and brutal."
Also killed in the attack was her father's longtime girlfriend, Sharon Dickson, 59, who was stabbed about a dozen times as well as shot repeatedly. No charges have been filed yet in Dickson's death.
"I have been really troubled in trying to figure out who would want to kill my mother," her son Andrew Dickson tells PEOPLE. "She was a person who was liked by almost everyone she met, so this is particularly difficult for me to understand. My wish is that my mother's killer is promptly brought to justice."
Adds Camden County Prosecuting Attorney Brian Keedy: "We intend to prove that Liz Van Note was involved, either acting alone or with others, in the actual killing that night."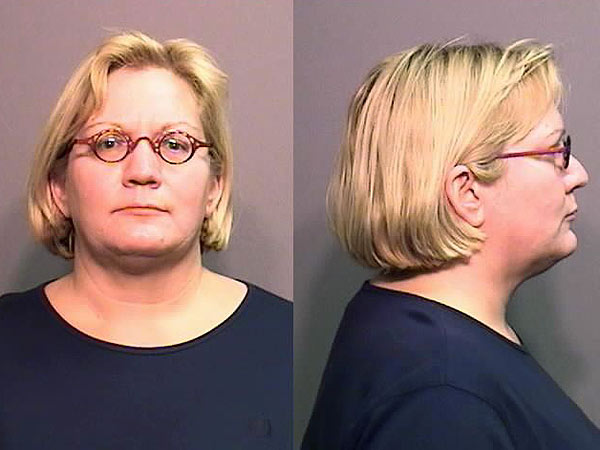 Boone County Sheriff's Dept.
A Community's Mixed Reaction
Liz, a single mom, lived a quiet life with her mother, Barbara, and her 7th-grade son in suburban Kansas City, Mo. She was known to volunteer her time at a domestic violence shelter and other local nonprofits.
"She's a good neighbor and a good mother," says neighbor Lois Wright. "Frankly, I'm shocked by all this."
But three sources close to the family tell PEOPLE that an anger boiled within her since her parents split many years ago. Her father remarried, divorced again, and then dated Sharon for the next two decades.
"Liz harbored a lot of resentment toward her dad because he divorced her mother," says a family friend. "Bill tried to win back her love over the years, but Liz wouldn't have it. It definitely left a big hole in his heart."
Charged with first-degree murder and forgery on Sept. 7, Liz Van Note has pleaded not guilty. Her attorney, Tom Bath, denies she was estranged from her father.
"I'm not saying they didn't have ups and downs, but Liz loved her father and wouldn't do anything to hurt him," Bath says.
He adds there was no physical evidence linking his client to the crime scene at her father and his girlfriend's three-story lakefront Sunrise Beach, Mo., home: No witnesses, no DNA, no fingerprints, no bloody clothes.
Bath explains the reason Liz produced the document in question was because she couldn't immediately find the original copy. "She was simply carrying out her father's wishes," he says.
Money Motive?
Authorities have not explicitly stated Liz's motive, but Prosecutor Keedy points to probate records since her father's death.
Liz, who filed for bankruptcy in 2009, was "busy getting her hands on everything," as her father's remaining beneficiary, Keedy says. His assets included three boats, jet skis, a home in Florida, numerous rental properties and other business investments.
Sources say William Van Note's wealth was in the multimillions, and that he planned to marry Sharon, whom he named executor and the other beneficiary in his will.
But Bath denies his client was making a money grab: "Liz inherited a financial mess. She did what any son or daughter would do, which was get the estate in order."
The Accomplices
Also arrested was Liz's high school friend Stacey Dory, 43, and her husband Desre Dory, 42, of Shawnee, Kan., for second-degree murder and forgery. Authorities say the couple cosigned the forged document as witnesses. But whether their involvement extends beyond that remains to be seen. The Dorys have also pleaded not guilty.
The couple's lawyer, Milt Harper, says in a statement: "As time unfolds, a complete investigation will show that the Dorys had no legal culpability in the murder of Mr. Van Note and his companion."
If convicted of her father's murder, Liz Van Note faces an automatic life sentence and could face the death penalty if prosecutors request it.