When Amber Tamblyn and David Cross
got married
on Saturday, it was a star-studded affair.
Newlyweds
Blake Lively
– who starred with Tamblyn in
The Sisterhood of the Traveling Pants
– and
Ryan Reynolds
were on hand for the celebration, as were
Amy Poehler
,
America Ferrera
,
Alexis Bledel
, Kristen Schaal and
Jason Ritter.
Questlove – who deejayed the reception – shared photos from the couple's nuptials, hashtagged with #weddinginthewoods, with his Instagram followers on Tuesday.
"Princess Amber arrives in style," he writes,
sharing a photo
of Tamblyn arriving to the ceremony barefoot and wearing a
yellow dress
. Flanked by the fall foliage, Tamblyn exits a canoe and walks barefoot to meet her groom.
Then it's hands in the air for the newlyweds as Cross and Tamblyn flash smiles after their ceremony. "Bliss,"
Questlove writes.
Between the ceremony and the reception, guests mixed and mingled. "The Reynolds," Questlove writes, sharing a photo of Lively and Reynolds, who tied the knot themselves in
a surprise ceremony
in September. Reynolds smiles as Lively looks engrossed in conversation.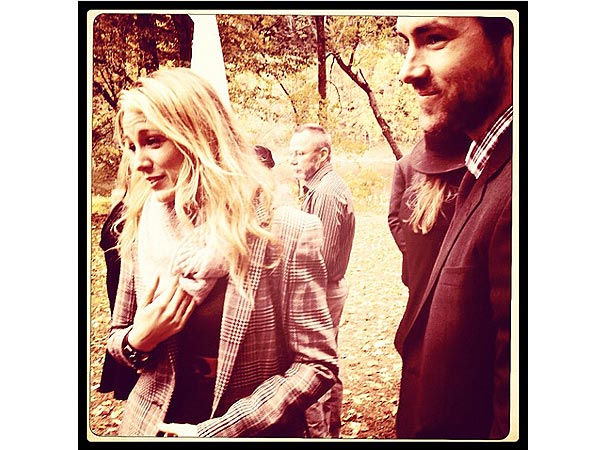 With the ceremony over, it's party time!
"Team Aim-Erica," Questlove writes,
sharing a photo
of Poehler and Ferrera embracing for the camera.
And now for the happy couple to cut the cake! "Cut the cake," Questlove writes,
sharing a photo
of Cross and Tamblyn smiling as they slice into their tiered wedding cake.